SON Riders features; "Hot Action, Powerful Message"
$20.00 PURCHASE NOW
SON RIDERS (DVD)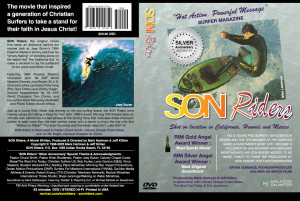 SON Riders; the original movie that takes an exclusive behind the scenes look at Joey Buran's 1984 Pipeline Master's Victory and how his "empty feeling" of standing alone on the beach at Pipeline after the contest, lead 'The California Kid' to make a decision to lay his surfboard and contest trophies at the cross and follow Christ.
Featuring 1984 Pipeline Masters Champion (and '98 ASP World Masters Champ) Joey Buran; 3X U.S. Champion, Mike Lambresi; Peter King (PK); Gary Clisby; and Jimmy Hogan. With Special Appearances by 3X ASP World Champion Tom Curren, and top surfers Dave Macaulay (Australia) and Pierre Tostee (South Africa).
Technical Note: Most of the footage in SON Riders was shot in (higher resolution) Beta Cam format, however some of the 3/4″ footage in SON Riders does not appear as "Sharp" as the Beta Cam footage (Joey Buran at Oceanside & Rocky Point), compared with today's HD standards. We were the first to break ground by shooting a feature length surf movie entirely on professional grade video (no film). It was state of the art in the late 1980′s… Even in the trailer, you can see the difference from the Beta Cam and the 3/4″ footage. SON Riders was featured on ESPN's popular 'Surfer Magazine' program in 1989 for featuring some of the most "High Profile" surfers of the day, taking a public stand for their Christian faith and also for breaking ground in this "new technical frontier" (video vs film). SON Riders was also the first "Surf Film" to utilize large screen video projection for it's "Theatrical Tour", as opposed to the standard 16mm Projection that was common for the day, in the late 1980′s.
SON Riders – Produced by Mark Hartman & Jeff Killian
In Association with Calvary Chapel Costa Mesa, The Word for Today & Erik Jacobson
Special Silver Anniversary Commemorative DVD Release
Non-Rated (NR) 63 Minutes – DVD Stereo Hi-Fi – NTSC
Genre: Sports Bio-Documentary/Inspirational/Family
Copyright © 1988-2020 Mark Hartman & Jeff Killian